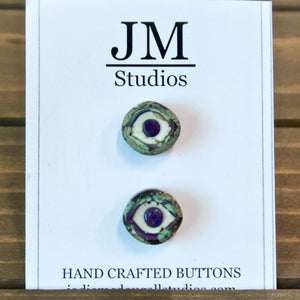 Glass Millefiori Button Packs
About Jodie McDougall Studios...
"Jodie first started melting glass in 2001 when she wanted interesting eyeballs for a koi fish Tiffany style Lamp she was making. She turned on the torch and was hooked. In 2010, she decided to dedicate her time to exploring the art of murrine or millefiori. The time-intensive practice, of creating miniature pictures in glass. She closed her massage practice of 18 years and jumped head first into the pursuit of this art form. In 2011, a hobby of playing with fiber emerged. Jodie began learning to process wool, spin, dye, and weave. This new-found love, lead to the inevitable marriage of the two crafts. Through bringing back and expanding upon the traditions of paperweight style buttons. In the future she hopes to explore all forms of buttons in glass, and play in her fiber studio making hats."
Jodie's millefiori drum-shaped buttons are a nice size and shape for all kinds of projects needing buttons, and the unique designs adds a little something special to your finished garment. 
Details
Materials: Glass
Button size: 14-16 mm