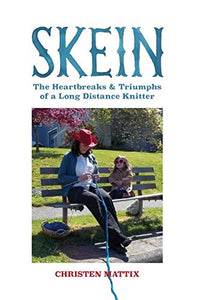 Skein: The Heartbreaks and Triumphs of a Long Distance Knitter
At 34, Christen is unemployed and lonely when, on a whim, she decides to knit a half-mile blue line from a bench to Bellingham Bay, a decision that cracks open a world of social interaction with her lovable and quirky neighbors. In the three and a half years she knits at the Bench, Christen visits a Trappist Monastery, falls in love, and recommits herself to the crazy life of a contemporary artist. Told with honesty and self-deprecating humor, Skein is both an intimate glimpse into Christen's psyche and a warm and sparkling account of a real neighborhood with all its joy and sorrow. Knitting in downpours, cold and record-breaking heat, Christen finally arrives at the Bay. In the end, her greatest artwork is the neighborhood that comes together in radical celebration and love.
Details
Christen Mattix is a genre-bending writer and artist living in Bellingham, WA. She writes in a holistic way that intertwines memoir, art theory, and spiritual writing. It is not a matter of switching between subjects, but of making an offering of her authentic experience as a woman, an artist and a spiritual seeker. Mattix received a BFA from Western Washington University and an MFA in Painting and Film from the San Francisco Art Institute. She grew up in Thailand.