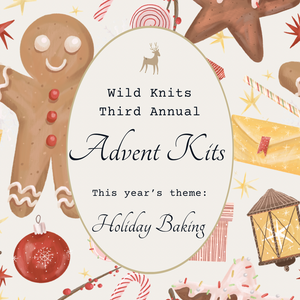 Wild Knits Third Annual Advent Kit Preorder
This is a preorder for Wild Knits 3rd Annual Advent Kits! Advent preorders will be available for in store pick-up starting November 25th and will begin shipping November 21st. The listed price is for the whole advent and includes all 4 boxes.
We are back with the Wild Knits advent kits! The last two years went so well, we are thinking the advent will become a yearly tradition. This year's theme is Baking Delights, and is reminiscent of our favorite winter treats, decorating gingerbread houses, and the smells of cardamon and cloves. As in previous years there will be 4 weeks of fun smaller projects, with each box containing everything you need (except needles) plus a few fun extras. Projects are small and will easily fit into a busy December schedule. When finished, your completed projects can be used individually or together. Choose to receive all 4 boxes at once (no peaking!) or come by the shop to pick up a box each week. If you're not local and unable to stop by, we'll ship all your boxes all at one time.
Please type in the available space if you would like to: "pick up in store at once", "pick up in store weekly", or "have it shipped"
We will be chatting about each week's project on social media, so make sure to post your projects to be entered to win prizes each week!
Note: Kits are limited while available supplies last. To ensure you snag an advent kit please place a preorder, we cannot guarantee any kits will be available for purchase once the advent starts on the 25th!