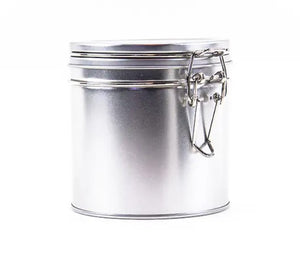 6 oz Tea Storage Tin
This is a great tin for storing tea. The silicone ring around the lid helps keep your tea extra fresh, and the size is perfect for holding all types of tea! 
Details
Materials: Body made of tin with a silicone sealing ring.
Capacity: can hold approximately 6 oz of black or green tea, or 3 oz of white tea
Care instructions: You can wash these with soap and water if you are changing the type of tea stored.